Due to the long Spring Break holiday, the deadline for parents, guardians, and caregivers of Sooke Schools District 62 (SD62) students to submit a survey on communication with district leadership been extended to 23:59 Pacific on April 30, 2023. This survey is seeking the views of parents, guardians, and caregivers of students attending public schools in SD62 on how they would like to be engaged on school district's Strategic Plan priorities pertaining to fostering inclusion, diversity, equity, and accessibility (aka IDEA) throughout the school community.
For those with online access, click on this link (https://www.surveymonkey.ca/r/SAB2022-Phase1) to be taken to the Survey Monkey landing page. It will take about 30 minutes to fill out. They will be able to read the Informed Letter of Consent (currently in English and translated into Japanese) before taking the Survey.
Interested participants can also complete the Survey by leaving a voicemail or sending a self-addressed stamped envelope using the information in the image below.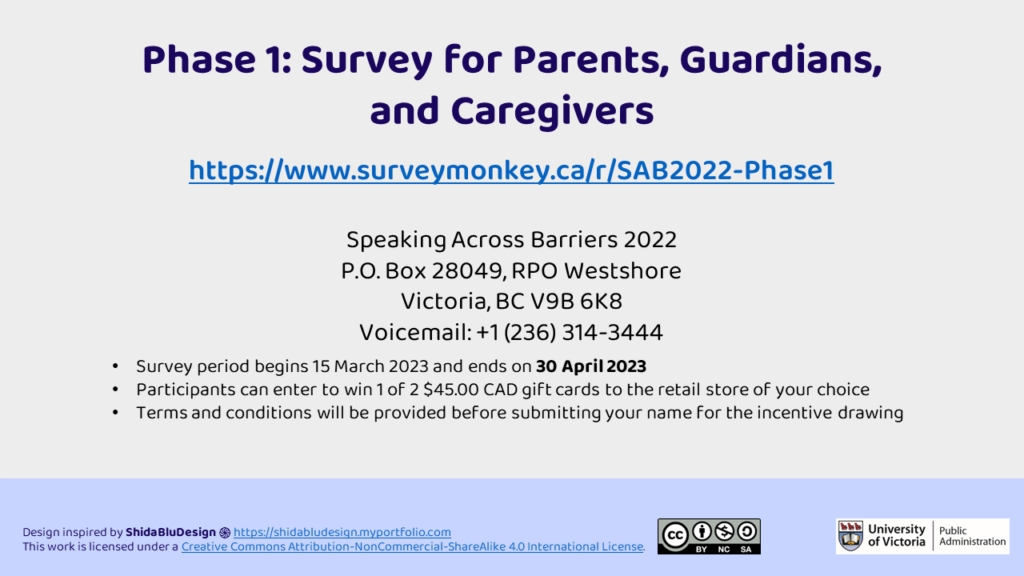 Once received, participants will receive a package containing a paper copy of the Survey, a copy of the Informed Letter of Consent, and a pre-addressed, stamped envelope to use to return the Survey and optionally register their interest in participating in the Incentive Drawing.
Many interested participants may prefer to discuss these issues rather than fill out a survey. I am also prepared to conduct some Knowledge-Sharing Sessions (focus groups) with some groups of parents, guardians, and caregivers. These sessions would begin in May 2023, and interested participants can sign up via this Survey Monkey link (https://www.surveymonkey.ca/r/SAB2022-Phase2SignUp).
For more information about this research project and its goals and objectives, please visit the project's website at https://renken-sebastian.ca/speaking-across-barriers-2022, or read the below e-Newsletter update.